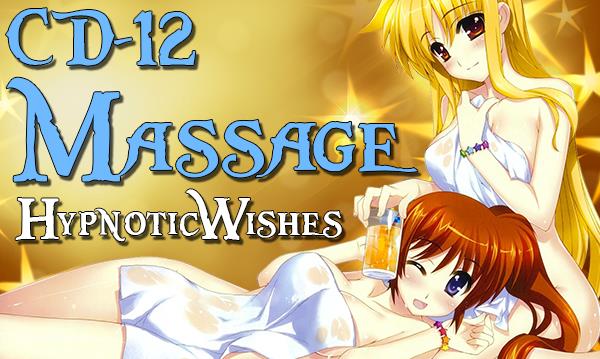 What do women want?
What do women want? To feel safe. To feel loved. To feel pampered. To feel cared for. To feel special. To fit in. To be popular. To belong. To feel comfortable and relaxed, able to cope with any situation. No single gift can satisfy all those needs, but the Massage CD can satisfy her needs, not all of them, but a number of these. Certainly enough for her to learn to be more relaxed, and sexually more open to feminine charms. A great gift for that special someone you care about…
Two Goals
This CD has two goals. The first is to bring the listener into trance so they can hallucinate a wonderfully relaxing experience at a health spa or beauty salon, where she can just let go of all the tensions of the day, forget for a while all her worries and responsabilities, to just enjoy being totally pampered, and treated like a queen.
The second is to learn to enjoy a woman's touch more and more, discover how erotic it feels to be with a woman, how enjoyable sex with women is, and how much she craves it, more and more. Nothing is done to alter the woman's attraction to men, if any. If she started out as a straight woman, she will become a bisexual woman, with a strong attraction for women, and a passion for sucking theirs breasts and licking their pussies, just as much as having her pussy licked and her breasts played with by these women.
The Scenario
This masseuse is amazing… she's warm and friendly and sexy, and helps her feel comfortable, telling her how special she is, and that she deserves this, that she deserves to be pampered like this. It starts with just holding her hands, to get used to her touch, the warmth of her hands, her perfume, and learning to accept the masseuse' touch as something relaxing and pleasurable, as that melodious voice soothes away the worries of the day into silence. Somehow, looking into those eyes is so relaxing…
Then to undressing, and lying down on the belly, while the masseuse applies oil, and keeps talking with that soothing voice, massaging the back, buttocks, legs and feet. And the more the oil sinks in, the harder it gets to think, and the easier it gets to relax, think, be blank, and enjoy those smooth hands and caresses.
The masseuse asks to turn over,… to go over to the other side… because it's going to be even better there… and everything she says makes sense… feels good… and is sooo relaxing. Massaging the face soothes away every tension line, and every thought. And of course, it's ok that the masseuse remove her top, because it's really getting hot in here, isn't it? Of course it is. And now massaging down… the the upper chest… the breasts… and lower down… and with her bending over from the head of the table… and those nipples almost touching… the masseuse has lovely nipples… almost close enough to suck them…. suck them… sucking… so good… and she goes down to spread the legs… speaking softly with honeyed words and a warm wet tougue licking, speaking, licking, asking to repeat things that are more and more obviously true.
But she stops licking, goes over to sit in a chair, spreading her legs, and inviting the entranced woman to kneel before her. Touching herself, she sniffs her finger, then offers that finger, saying "Smell. Smells good doesn't it?" Dabbing it on the lips, she adds "Now, taste how good it is… and realize how much you want more".
But the desire goes unsatisfied, as the client is told to go into trance, and to crave this more and more, breasts and pussy, and lovely lesbian sex. There's a special word that will awaken these desires… a word to remember… and then it's easy to drift away, forgetting everything except the great massage, and the need to return again and again…
Track Guide
In this track guide, I give suggestions as to how to safely introduce this sensual massage to hesitant beginner. It involves either:
Copying specific tracks to your computer, and putting them in a folder where she can listen to them, with Windows Media Player or some other program.
Just putting the CD in your computer's CD drive, cueing the tracks you want her to listen to in the media player, and then setting her to listen to them. (this is easiest, but has the disadvantage that she may try to listen to the other tracks once out of trance, which is not good)
Burning a series of CDs, with the progressive selection of tracks I suggest, so she can listen to them on a portable CD player. If you ask for it, I can provide you with a few extra CD labels, so they look exactly like the full original. But if you ask for extra labels, I'll expect to get details on your situation, and progress reports on her listenings… 🙂
First CD – Safe –  (50 mins) = 1,-,3,4,5,-,-,8,-,10
Second CD – Adventurous (60 mins) = 1,-,3,4,5,6,-,8,-,10
Third CD – Converted (68 mins) = 1,-,3,4,5,6,7,8,-,10
(plays everything except the awakening track, to make amnesia easier)
(As you may notice by now, My hypnosis CDs are designed for tinkerers who like to customize them to their needs, and so come with "Some assembly required"… though they can always be used "as is")
Track
Name
Description
Length
1

Induction

The standard induction, and trance trigger word setting.
15:20
2

Mini-induction

A two minute version of the full induction, for people who are well practiced with the full induction. You can either:
Leave it in as a deepening after the induction.
Cut it out to shorten the trance.
Or start playback with this mini-induction if you can go into trance quickly from practicing with the full induction.
You may also want to use this mini-induction as the into to other recordings you have.
2:00
3

Meeting

As you enter the massage room, you meet your masseuse, who helps you get comfortable.
13:00
4

Undressing

Undressing, lying down on the table, a head massage, and spreading the oil onto the back.
11:51
5

Back

Massaging the back, buttocks, legs and feet.First Stop Point: If you want to ease your lady into this smoothly, stop here, and then play track 9 to lead her to sleep. This cut makes a 50 minute CD, which is quite long enough to focus on for someone starting out.
8:28
6

Front

Massaging face, breasts, leading to mutual breast sucking.
Second Stop Point: For a more adventurous experience, stop here, then play track 7 to suggest amnesia, and then track 9 for sleep. This cut makes a 60 minute CD.
9:28
7

Learn

You are told that you love breasts and find breasts arousing, and she has you repeat how much you love lesbian sex as you feel her warm wet tongue licking your pussy, wanting to lick her pussy too, the thought of licking pussy making you so wet. The masseuse then stops, goes to sit on a chair, spreading her legs, and invites you over. She makes you smell her pussy juice on her finger, puts it on your lips, and as you taste it, you find you crave more. She tells you those lesbian desires for breast and pussy intensify every time you hear the special trigger word, before sending you into trance.
9:22
8

Fog

Remember only a pleasant massage, and whatever your waking consciousness feels totally comfortable remembering, and forget the rest, knowing to feel excited about the special touch, when you hear the special word, but remembering only a relaxing massage. You'll want to return.
2:35
9

Awaken

Awaken feeling wonderfully relaxed, and know to respond to special trigger word (which is only specified in track 6). By skipping this track, the end of the trance becomes the first part of sleep, and like a dream, it's easy to forget. So if you want to induce amnesia, cut this track out. If you want it remembered, leave this track in. Whether you stop listening after this, or continue with the next track to go to sleep is a matter of preference. But don't wait too long to decide, or you'll just go along with track 9 and fall asleep!
1:13
10

Sleep

Feeling so relaxed, drift into sleep. Just a nap if it's not sleep time, or full sleep if it's time for that.
1:15