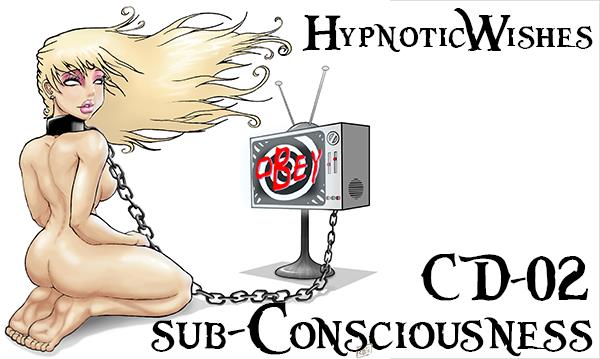 Click to listen
(please be patient while file buffers)
While Trance Training is highly processed to sound very smooth, recordings 2 and 3 are almost raw. They are direct recordings, of My voice only, from an actual phone session. You can experience what a phone session with Me is like, and hear the pauses where I expect you to answer Me. I was careful during the induction to make sure not to use the person's name, or repeat any specific information related to their answer, so you can provide your own details. I also made sure that it was suitable for men, women and transgenders.
Sub-consciousness is the first 38 minutes of the phone session, with the awakening track added later. Its goal is to make the person into a very happy, submissive and obedient slave girl (Whether they started out as male, female or transgendered is irrelevant… they will be a slave girl afterwards)
Note For Male Doms: It will make your lady into an increasingly submissive slave girl. However, since I'm the one doing the conditioning, it talks about obeying Mistress, and doesn't specifically mention a Master. The only return I've ever had on this CD was from a Master who didn't want that. On the other hand, I have another Master who uses it with his slave girls, and soon to be slave girls, and is quite happy with the results.
| Track | Name | Description | Length |
| --- | --- | --- | --- |
| 1 | Induction | Track 1 is the trance induction. Very deep trance induction. Its tone is more dominant than that of Trance Training, but still in My usual style which is to gently seduce into submission. |  22:26 |
| 2 | Slave Girl | Track 2 is designed to logically take someone step by step from independence to being a very submissive slave girl. It all makes perfect sense as I guide your mind from one idea to the next… until you realize your deepest wish is to be a slave girl… more than anything, and that in fact that's what you are. | 15:28 |
| 3 | Awaken Slave | Track 3 is the awakening track, that was added to separate this part of the session from the next. If you skip this track and go straight to track 2 of Elegance, you'll be hearing the whole session as it happened. | 2:17 |
The Tracks are separated so you can creatively repeat the tracks you want. Once you've trained a lot with the whole CD, you can skip the induction, since Track 2 starts with the trance trigger word that's established in the induction. And you can loop the slave girl track as many times as you like for a deeper effect…
It doesn't matter whether you're a woman or man when you start listening… by the end, you're a slave girl who wants… no, needs to obey. You can present it as a relaxation CD… to your wife, husband, boyfriend or girlfriend. Or as a joke, asking them to play along for fun… Or you can request they be mailed to to your address with the name of someone else: "hey hun, look what I found in the mail… weird huh? Think we should listen to it?"
TRIGGERS: This CD sets a trance trigger word, which is only usable by Me.