Real Girl Challenges
So here's a little contest I cooked up. Certainly, you can all swoon at boys and dream of a hundred things you'd like to do as a girl. But can you do the things women have been doing for centuries? You know, other than sex and looking pretty? I'd like to know, and I'm willing to give a FREE SESSION worth 160$ every month to see a few of you woman-up and do some real woman's work. Or a free CD, if you're too shy for a session.
In truth I had thought to start you off easy, by asking you to patch up jeans or repair some item of clothing. But it being Valentine's Day this month, I needed something a bit sexier.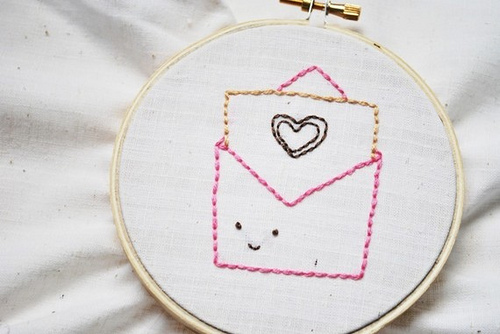 Thus I'm asking you to learn embroidery, and make something Valentine related for the first challenge. You have till the end of February to do it, and the materials cost about 10 to 20$ depending on what you get. The best three entries will be displayed and earn My favor. The best one wins the prize.
I am asking for three pictures, one at the start, middle and end of the project. I also want to see your hand with painted nails on the picture, even if it's just French tips done with Liquid Paper. This is for two reasons: 1) I want to be sure you didn't just grab the picture somewhere else and 2) it amuses Me to see My girls wearing nail polish.
I don't expect anything extraordinary. I just want to know that you made an effort. In exchange, I will make an effort for you. :)
What do you need and h ow much will all this cost?
5 inch spring tension hand embroidery hoop: $2.99
sharp hand-embroidery needles: 3$
White cotton fabric, about 1 foot (by 1 yard): $2
Embroidery floss (thread): 2$ (per color)
Total cost, by a t-girl who went to a store: 12$ (with sales tax), 14$ with two colors.
Do let Me know that you're attempting this challenge, and put "Real Girl Challenges - February" in the title. I will give you tips and encouragement if you do.
I'll give points for evenness of stitch lengths, originality (if it makes me chuckle, that's good), and overall appearance. Even if you don't win, you get to express your girlhood outside of the bedroom, an important step as far as I'm concerned.
Hypnotically,
Mind Mistress
---
February Contest Winner: Tina!
Dear Mind Mistress,
This sissy is taking part in Your February Challenge - what a terrific prize! My design is not overly cutesy, as being a slut i like to be direct. Also by a simple design this sissy hopes to ensure she manages to complete the project on time. This sissy decided that she needed a top to wear should some stud invite her out for Valentine's, so here goes...
Yours obediently,
tina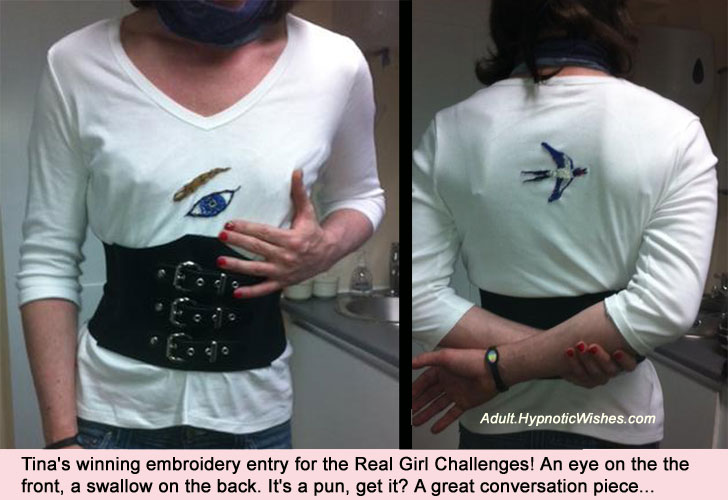 ---