Gifts for your hypnotic Mistress
Worship is nice but boots are better!
Flowers wilt... say it with PVC...

My birthday is June 9, and I thought I would give My admirers some gift suggestions. You've missed it? Oh not to worry, you can send them as late birthday gifts, or early christmas gifts :)
Mistresslikessss gifts....
Books, books! Of course, that makes sense, since I'm the Mind Mistress, rather than the Leg, Ass or Tit Mistress... though Tit Mistress does have a nice ring to it... ;-)
There are some books and videos about cheerleading there, which I want to study, to make a cheerleader transformation CD, and organize cheerleader teams at the conventions I attend.
I want to study those to make an exotic dancer/stripper transformation CD. I prefer the DVD format when available. As you know, I've taken exotic dance classes, and put on a show with the other students.
On the left, you see a Platinum Stage, a must for any girl to practice with for her new job... it stands on its own and does not touch the ceiling, can be converted to a coffee table when not in use. Also makes for a great exercise tool, as well as a conversation piece...
I'd also like to get some belly dancing training videos. I need to keep in shape, and it's more fun for exercising. Also, some good bellydancing music would be nice. All I have are some old bad quality tapes dubbed from My teachers when I took some classes.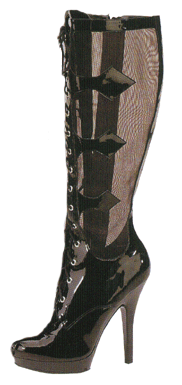 And for clothing:
My feet are size 9, My dress size 9-10, My waist size 30, My chest is 36C
For clothing or footwear :
-- I like PVC in BLACK, SILVER, PURPLE (did you guess purple is My favorite color?)
-- Leather is definitely BLACK, though I'd consider a white outfit.
-- I received a pewter latex outfit, ordered online... but the top doesn't fit right, and it's not something I can send back, since they're made to order. Doh.
If you're trying to select something else, don't get anything that goes around the neck,I can't stand them. I was probably hung or strangled in a past life...
If there are other good places to shop online you'd like to suggest, with things you'd like to see Me wearing or other gifts, let Me know. I'll look, and maybe add it here :)
If you want to make an offering, email Me (click on this link)
Mind Mistress
---
Click here to go

back to the hall