Hypnotic Evil Domme Training
by Mind Mistress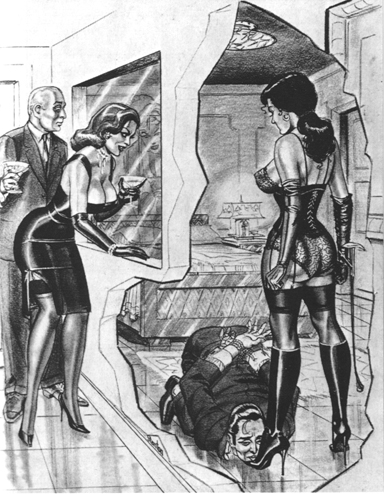 I was talking with Botticelli today and she said:
Botticelli 2/15/01 12:02 PM -- gotta be someone just aching to be hypnoslaved....but I have this bunch of morals that says I am responsible for them once I do that
Mind_Mistr 2/15/01 12:02 PM -- Want me to hypno your guilt away ? ;)
Mind_Mistr 2/15/01 12:02 PM -- Make you Evil just like Me ? :)
Botticelli 2/15/01 12:05 PM -- why not... a session to get it all kicked in again may be what I need...
Botticelli 2/15/01 12:10 PM -- so.... now the time comes to take evil hypno domme classes from you...lol that should make a good trance story
And so as we continued talking I sold her on the idea of letting Me hypnotize her into becoming and Evil Hypno-Domme...
And I LOOOOVE training Mitresses! And she's right, it does make a good story. Good enough to share. So I asked her to fill out My form, and set a date to start her Mistress training tomorrow afternoon. Then I thought, wouldn't it be great for people to witness her progressive transformation from Good to Evil as the week progresses? Of course it would! So I opened up the chatrooms and asked her to pick some times when she'd be available to chat with people (there's nothing lonelier than a chatroom with no scheduled events... so I hadn't opened the link to that chatroom before now)
Evil makes Me cheerful... *grin*
Subverting the pure at heart even moreso... Mmmmmm....
Please, do go into the chatroom next week, and check on her progress from day to day... it should be fun to see how she develops... Oh, she can answer questions about erotic hypnosis too... she's a very good hypnotist. It's her attitude and morals we'll be working on...
Mind you, I do have three rules of ethics, as an evil hypno-domme:
I do what is asked and respect stated limits
I don't lie
I make sure the person is happier than they were before
That still gives Me plenty of leeway, while being trustworthy... provided your request is sufficently specific... *Evil Grin*
She will be in the chatroom Tuesday, Thursday and Friday, February 20, 22 and 23, 2001.
You can check times in the menu of the Hall of fame (click here), or in the chatroom (click here) Check again on the day of the chat in case there are time changes.
Without further ado, here is her Trance Request Form...
Subject: Mistress! Another slave for you!
Date: Thu, 15 Feb 2001 14:02:05 -0500 (EST)
From: Botticelli_Babe69
To: Mind_Mistress
Below is the result of your feedback form. It was submitted by: Margaret (Botticelli_Babe69@yahoo.com) on Thursday, February 15, 2001 at 13:02:03


---


age: 47
birth: September 7,1953
gender: female
education: College Degree
occupation: transpersonal hypnotherapist
location: Colorado

FANTASIES: Hi Linda, Well, as we talked about before, I just don't feel that I have enough dominance in my personality. That is why we went with the title Budding HypnoDomme on my rating. You know how much I look up to You and Your evil powers... and well... I think I would like to learn how to do that... Do You think that it is possible to help me get over the hurdle? I would just love to be an Evil Hypno Domme like you. You are so controlled and classy to me. I think that I would like the dominance to begin to blend in with my real personality.

EXPERIENCE: I have experienced both hypnosis and being a hypnotist. There isn't much in hypnosis that I would think didn't work well. As a lifestyle Domme I find that it suits me well... but I have been told that I am not strict enough... or perhaps don't express it well.

interests_sex: caressing, masturbating partner, watching partner masturbate, receiving oral sex, intercourse, anal play

interests_bdsm: dominating, spanking, wearing feminine underwear

interests_turnons: breasts, hair, eyes, lips & lipstick, nails & nail polish, ass & hips, panties, legs, stockings/nylons, feet, high heels, leather, latex, pvc, glamorous clothing, professional clothing, uniforms, jeans & t-shirt, short skirts, visible cleavage, jewelry

interests_physical: live fantasy reality, increased sexual pleasure, increased sexual perfomance, increased skin sensitivity

interests_physical_mental: past life regression, trigger: trance, trigger: commands

interests_mental: made dominant, worshipping mistress

preference: men, but

IDEAL_MISTRESS: Someone with a great deal of self control and presence like Mind Mistress. Strict and Evil... but still friendly, and trustworthy.

traits: humorous, intellectual, refined Lady

attitude: caring, seductive, domineering

LIMITATIONS: No bondage scenes with me in them tied up, blindfolded or gagged. Body secretions are a big issue with me.

roomates: Yes
dependants: No
partner: Yes
where: in trance
with: hypnotist, romantic partner(s)
time_zone: Pacific Standard.
found_website: Linda told me
afford: can't afford

WISH: To become a Classy Dominant Woman that is trustworthy and deserving of the devotion of others. Someone that can still be strict when it is deserved or needed. Sort of your Evil Hypnotic Domme
Yahoo: Botticelli_Babe69@yahoo.com

submit: I agree (Send this form)
I'll be adding comments here after the session...
Click here to go

back to the gallery