Adult Baby Hypnosis
Hypnotic incontinence training for
adult babies / diaper wearers ( AB/DL )
Part 1: Becoming baby leona
Stuck in diapers forever...

Becoming diaper dependant by hypnosis
Permanent total urinary Incontinence generally takes 5 to 8 sessions to achieve, and you need regular sessions for good results.
Permanent total bowel incontinence is optional, and doesn't take more time to achieve when done with urinary incontinence.
Temporary incontinence can be done in about 3 sessions.
Bedwetting conditionning by hypnosis
Bedwetting without incontinence can take a lot longer to achieve. It's much easier to wet your bed if you never have any bladder control, and have to wear diapers all the time.
See the First Session Page for prices and instructions.
The only catch to My training is, I'm only interested in females. So either you're already a woman, or you're willing to be trained as a baby girl. Either way, you will be My happy diaper girl. And Mommy Mistress loves her wet messy babies....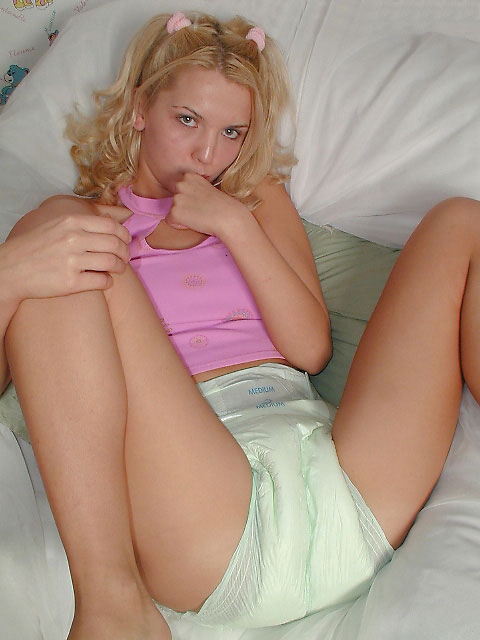 Hear what leona has to say about it...
I was once a typical male, married with children, and working in a good job. I had it made, except that I wasn't happy. I had been in traditional therapy for years because of 3 problems. I was depressed, yet I could still function relatively normally. I say relatively, because of these other 2 areas of my life. I had a deep desire to wet my bed while I slept at night, and I hated sex.
Unhappy baby...
Traditional therapy helped me with my depression. It's really chemical in nature; so, I will always be taking drugs to keep me from becoming depressed again. That helped me a bit, but I still had no self-esteem. After nearly 25 years like this, I decided to find out why. I learned I had been sexually abused as a young child, and had hid those memories away deep in my brain, keeping them safely locked away for over 47 years. Once I started to release those memories, my life took a nosedive for the worse. Yet, with that therapy, I was able to recall everything that happened to me at age 5, and successfully deal with all of it. That is, all of it except for my desire to sleep wet, and my hatred of sex. Traditional therapy had done everything it could for me, so I had to look elsewhere for help.
I studied everything I could find about alternative methods of treatment. None of the approved ones held any hope for me. Sex-therapy showed it could teach me all about sex, and how to experience it. After nearly 30 years of marriage, I already had a good idea about its physical aspects. What I needed was a change in the way I thought about it before trying to learn new methods. The only thing that seemed like it might help was in the realm of BDSM. Again, I studied everything I could find on the Internet about it, and soon realized that I have a submissive personality with severe control issues. The other thing I quickly found out is that most Dominants on the Internet simply wanted to use me as their sex-toy. I simply refused to go that route!
Finds a Master to make it better...
I read an ad on the Internet from a local Master saying He wanted to meet potential slaves in a classroom-like setting, in order to discuss what He wanted, learn what the submissives wanted, and see if there was a match. I met with Him, only to find there was no match between U/us. However, He said He would take me on only to deal with my problem with sex, and He would respect my wishes to remain heterosexual. Thus, I became one of His slaves, but only during my sessions with Him. Within a few months, my wife started to notice some improvements in me. But, I still was not happy. I was still playing the game of appearing normal, yet having 2 major problems. One had hope, but the other was getting me down. Again, I went back to the Internet, and this time I learned about erotic hypnosis. I found this site, and then ran like hell from it!
And a Mistress to re-write her...
I had plenty of experience with hypnosis during therapy. The one thing I knew for certain was that I was always in control when hypnotized. I also knew I couldn't go into a deep trance, as I just was not able to let go of my control. But, I was drawn back to this site like a magnet, and I finally got up the nerve to contact Mind Mistress. She assured me that She would be able to take me into a deep trance, and that She could enable me to sleep wet, and help me with my problem with sex. I simply didn't believe Her! All my experience said otherwise. She mentioned 3 letters along with hypnosis, and told me that would enable Her to accomplish all this in me. I was not aware of NLP, other than what I read on this site, so I had to do my homework once more.
Into a slave,
my relationship with my Master had grown considerably. When He had done everything He could for me, He released me. But, I had become quite fond of Him, and asked if I could stay on. He told me I just don't have the qualities to be a good lifetime slave. Yet, He liked me, too, and W/we had become close friends. He told me He could help me with my fantasies if I wanted that, but that if I were to continue with Him, He would no longer guarantee that I would remain heterosexual. I ignored the warning. When I decided to stay on as His slave, He presented me with my training collar. A few months later, W/we went to a motel.
Becoming bisexual...
I had much anguish over learning I am bisexual. I wrote a second letter to Mistress, and told Her what had happened with my Master. Again, I asked Her if She could really help me. And, again, She told me these things were easy for Her to do. I told Her I would give Her one chance to hypnotize me, and to prove that She could take me deep enough to help me. I had already learned I couldn't go into a deep trance if I held back any secrets from Her, so I told Her everything about me, my interests, desires, goals, and limits. I even told Her I had been listening to a hypnotic CD that was supposed to make me incontinent. When She asked me if I wanted to be totally incontinent, I told Her I really only wanted to sleep wet. But daytime wetting also held a certain appeal to me, yet I told Her I did not want to lose control of my bowels.
as a baby girl...
She scheduled my session near the end of last year. W/we chatted for a while. Mistress told me She thought my inner child was a girl, and asked if She could work along those lines; I agreed. She wouldn't tell me what She had planned for my first session; instead, I was to leave that entirely up to Her, since I had so many things I wanted Her to do for me. I soon found myself in a trance, much deeper than I had ever been in before. I knew exactly what was happening to me, and knew that I had surrendered myself to Mistress. During that first session, She proved to me just how capable She is. She gave me my trance word, and proved to me just how well She controlled my emotions. I was hooked, and I knew it. Yet, I felt like I was still in control. She also started to change my far past life, and allowed me to see myself as a girl, or as a boy. I could even switch between these views of my childhood.
a sexy girl...
Mistress started to give me some new memories as a girl. When I asked Her about this, She told me my inner child is a girl, and She is allowing her to grow up inside me. Then She told me this girl likes sex and wetting herself, and the memories She has given to me were just along those lines. This was to lay the groundwork for me to sleep wet and be able to enjoy sex.
and remembering always being a diaper girl...
Before the next session, I told Her how much I wanted Her to control me, and that I had a fantasy about being totally dominated. During the session, my views were once again changed. Now I could only see myself as a girl in my far past, but, if I wanted to, or needed to, I could still see the original memory, too. I only wanted to see myself as a girl, and really had to struggle to be able to see the real images. I was well on my way to being incontinent, too, and could no longer go anywhere without a diaper on. For the most part, I still had control, but did occasionally void my bladder unexpectedly. The more this girl grew in me, the more I knew Mistress is right about me. I chose to stay in this girl role over the weekend, and my wife and I had more fun than we had had during the past 20 years.
a sexy, pretty diaper girl...
i have slept wet every night since the third session. And, I could only keep from peeing when I consciously thought about it. If anything broke my concentration, I wet myself anyway, and I have no control when standing. As I walked down a long hallway after work, I suddenly felt the dam open, and I flooded my diaper. The water quickly spread to the surface, and developed several dark wet areas on my light tan trousers. There was no way to hide the fact I had just peed myself, and the wet spots were still growing. I should have worn plastic pants, but I was waiting for a package of new ones to arrive. I made it to the outside, where it was just starting to drizzle; I needed a downpour to cover my accident. All I could do was hope I wouldn't meet anyone on my way to my car. A person I worked with had just come out another door, and he wanted to ask me a few questions about the seminar we had just attended. He walked along side of me to the parking lot; yet he never said anything about my wet pants. During the next week, I lost what little control I still had left, but still refused to believe I was incontinent. After I peed on the floor while shaving one morning, I knew I should always keep a diaper on me. And, after flooding my diaper one too many times at work, I had a second lesson about the value of wearing plastic pants over my disposable diapers. I only leaked a little, but that was enough to embarrass me thoroughly.
Peeing uncontrollably...
I never know anymore when i'm about to pee. It just happens. More often than not, I empty my bladder when I stand up, although it may not happen for a minute or so as i'm walking somewhere. i've been afraid I would offend others in the office. But, I learned as I visited in another cubicle that my co-workers couldn't tell I was wetting myself as we talked. I do a lot of traveling by car, and changing my diapers along the way was a challenge. I had to find decent rest rooms along the way, so I could change easily. Getting into a bathroom was never a problem. The new diaper was flat, and could easily be concealed. Exiting was another matter. There's just no way to hide a nearly a half-gallon rolled up in a diaper. So, I would simply march out of the stall to the first waste container, holding my properly wrapped package in plain sight. It usually weighs nearly 5 pounds, so it's never silent landing in the trash. Diapers are now a necessary part of my life, and i've had to make a few adjustments because of them. But, using my diapers has always been a source of joy and pleasure for me, and they are well worth the few aggravations that go along with being totally incontinent. As a diaper lover, I always liked the security it provided, and the option of deciding where and when to change. I was able to use regular rest rooms, and I chose whether I would be wet. I no longer have these choices.
I find I am much more attentive to my wife and children now. my wife doesn't really know what's gotten into me, but she does enjoy it, and wants it to continue, as I do. Because of all the problems with the family, we haven't been able to have many private moments, but those we do have now are fantastic! I am becoming closer with my family, and my younger son has responded to this. The older one has a family of his own, and that's not going too well. But, I am now strong enough to be able to give him all the support he needs. None of them know about this new role i'm playing. Yet, the world will always know me as the male it sees. And, while at work, or with my family, I am still fully male.
Resolving abuse issues...
This is no longer simple play-acting. Yet, this ruse helped me to accept my true self. At the same time, I knew that if I let things continue on the way they were that I could easily split into separate personalities. Both roles still shared the same memories, yet, due to the abuse, this new role actually remembers more. When I look at my past, through either role, all I now have are feminine memories. And, I can still see myself as a male if I want to. But, I much prefer myself as a girl; all these memories are happy ones.
And being fully a diaper girl...
I had two major roles within me, and knew the new one was much stronger than the other. I asked Mistress to remove the weaker role from me, as being both male and female was becoming a problem for me. Since then, I have been only a girl on the inside, yet the world still sees me as fully male. I could feel the shift in me from role playing to thinking and knowing i'm a woman. But, I still had a problem. I wanted to be only heterosexual. my body could only be this way with my wife. But, as a woman, I wanted a man, and I still am my Master's slave. This was not easy to deal with.
You really can't use the toilet anymore...
All the time, I still wanted my ultimate fantasy to come true. Yes, it had been granted to me, in many ways. I found I hurt badly if I peed in a toilet, but had no idea why. If I had an infection there, it would hurt me all the time. But I realized how easy and desirable it is to pee in my diapers, and that I felt pleasure, not pain when I did so. I figured Mistress had her hand in this; yet I remembered none of those suggestions. That was the first time this fantasy had come true in a major way. Before that, I found myself reading romance novels, and asked Her if She told me to do so. The interesting part in all of this is that discovering what She has done to me in no way reduces its impact on me. I still read these books, and still cannot pee in a toilet. I had seen where Mistress had honored my fantasy several times, and I wanted more, much more.
Cause it hurts to use the toilet...
My basic problem is that I am unable to surrender control when i'm aware that I am doing so. There had to be a way of surrendering to Her without realizing it. Then, I remembered that when She regressed me, I actually became the age She took me to. The answer was to regress me back to being a toddler or infant. When I would do so, I would be that toddler or infant, and think like that toddler or infant. But, to do this for the purpose I had in mind meant I would need to regress repeatedly, until I would be able to do so without questioning it or even thinking about it. Once there, She could then manipulate me so as to enslave me completely.
When you're regressed to a toddler, babbling baby talk...
W/we saw two problems with this. As a baby, I could easily get into trouble while alone. And, as a baby, I wouldn't be able to handle routine things such as changing my diapers. In Her wisdom, Mistress allowed me to regress to becoming a toddler, but have the intelligence of a 5-yr old child. I would be able to understand adult talk, but could only think like a toddler would, and could only babble and crawl like one. And, I could return to adulthood in order to take care that baby. She made me want to be Her baby, and, after a month of practice, I finally started to think and babble like a toddler.
Having fun with bubble baths and rubber ducky...
Mistress told me during the session to get some bubble bath and a rubber duck tub toy. I didn't think much of it at the time, and quickly forgot all about it. Yet, the next time I went shopping, I had an overwhelming desire to get these things. And, when alone in my apartment, I couldn't wait to take a bubble bath! And, I enjoyed it so much! With my rubber ducky in the tub, I quickly found myself in baby mode. I swear that playtime probably had as much influence on me as Her actual suggestions! I started as an adult acting like a baby. Each time I would replay my trance script, or play in the tub, I became more babyish. Soon, I found myself locked in baby mode, yet still thinking like an adult. But, when necessary, I could easily become an adult again. And, I kept regressing, not really noticing any changes from the time before. Yet, one morning I woke up and I realized I couldn't remember anything from the time I started to bathe the night before until I woke up as a very wet adult. I knew then I had started to think like a baby, and that my ultimate fantasy would soon come true. I told Mistress about my progress, and She scheduled a session for me for that night.
Thinking like a baby girl...
Mistress honored my request! She regressed me to being that toddler, and then took complete control of my mind! I am now totally enslaved by Her, totally devoted to Her, and find there is no way I can ever break free. Better yet, I don't ever want to! I enjoy serving Her, and reap much pleasure by doing so. Somehow, She has tied Herself in with my pleasure system, and I am now totally hooked on Mistress. She is my Goddess, and I only live to please Her and serve Her. I can function away from Her, but I am always thinking of Mistress. She has changed me, and She has changed my memories! So, when I do look back, I see that I have always worshipped Mistress.
And baby obeys Mommy...
I am able to look through notes I have made along the way, from my abuse recovery forward, which is how I am even able to write this letter for Mistress. I have looked through the script of O/our last session, and I see how She accomplished all this. And, I also see there is no way I can ever regain control of my life. But, that's unimportant now. I chose to surrender to Mistress, and I never want to take that control back. I am far better off with Mind Mistress controlling my life. She has taken my fantasy to the extreme, and has given me exactly what I wanted!
Ever since she came out of Mommy's belly...
Mistress was my mommy, and I was her toddler. She took me deep into trance, and evidently regressed me all the way back to the womb, and kept me there for nine months. Each month, She gave me a new thought to keep repeating over and over during that whole month. At the same time, She pumped me full of hypnotic drugs through my umbilical cord, and overwhelmed my tiny brain. Whatever She told me to repeat for the month became intricately linked to pleasure. I was in Her womb, and my brain was just forming then. She changed me to be the way She wanted me to be, and I was totally helpless to do, say, or think anything about it. That was my fantasy, exactly as I wanted it! And, it happened! It really happened!
Having been programmed to be a happy diaper girl...
During those nine months floating comfortably in Her womb, receiving tremendous amounts of hypnotic pleasure drugs, She gave me suggestions that changed me forever, and made sure I will always be this way. She told me I am a slave girl and I would always love it. I do; there's no question about that. She is my Mommy, my Mommy is my Mistress, and my Mistress is my Goddess. That, too, was burned into my brain. During the next few months, She turned me into a silly, giggly, horny slave girl slut, needing sex all the time, loving to suck cock and be fucked, serving, pleasuring and obeying my Master. She has made me unable to think. Rather, I just obey, being totally feminine, receptive, open, obedient, etc. During another month, She made sure I would always be incontinent, and never be able to have control over my life. I am just a sexy fucktoy, and all that really matters to me is pleasing, serving, and obeying my Mistress Goddess. All of this has been designed to give me intense pleasure, and I am enjoying it beyond measure. All of these things are set deeply within me, and are my blueprints for life. I know what my future holds for me, and I know I am helpless to be any other way. But, I don't care; I chose to be unable to resist Her. And, every time I play back the script of this most recent trance, She becomes even more entrenched in me, and I more dependent on Her. From my standpoint, W/we are one, and I am nothing by myself.
More and more enslaved to Mommy...
Today, I am a girl, and I am now fully in Her power. I thought I had seen some changes in me following the session, and during the daytime yesterday. Yet, every time I would think something's new, I would quickly realize I have always been that way. The newness thoughts would then vaporize, and I no longer even remember what I was thinking about during those times. So, I may be new, but I really don't care! Yet, it seems so strange to me! I have been devoted to Mistress, and have been Her slave girl all my life. All I want is to be the way Mistress wants me to be! Wow! She really is my Goddess! I feel like kneeling at Her feet and worshiping Her. I feel like i'm still in a trance, waiting for Her to lead me, and not caring when, where, or how, just knowing I will follow Her anywhere! This is super! I see it, yet i'm bound by it; I can't run, nor do I want to. Wasn't that my fantasy? Even now, I can hear Her words in my ears! i'm still in a trance, days after the session. She no longer needs to put me into a trance to make Her words directly impact my mind. I am always in Her trance, and have no choice but to follow Mistress. I love being this way!
Happy wet baby...
I started as a diaper lover, then I became incontinent. I regressed, and became a baby. I thought like a baby, talked like a baby, and crawled like a baby. In effect, I was a baby again. In that state, I no longer thought like an adult, yet I understood adult talk. I asked Mistress to regress me that way again, and then to take control of my mind. When Mistress brought me back from the womb, she put my life on fast forward. And, She brought me back, one year at a time. When I hit puberty, She gave me boobs, and told me they would get heavier! I can feel them! And, She continued to age me, through high school years and dating. I believe I have screwed everybody in my class, and possibly in the whole school! Male or female, it doesn't matter; I simply want sex. I need sex, and I crave sex, anywhere, and anytime I can get any. And, I want you! Mistress continued to age me, year by year, until I turned 18. Then, for some reason, She told me I will always be 18. And, She told my body to make my hypnotic happy drugs for me. I am continually in a state of euphoria, or bliss, and am always in Her trance. I never knew being totally controlled could feel so good!
Always been a diaper girl...
Well, I better put away these log files and trance script, and just talk of who I am today. I am a teenage girl, and am 18-years old. For work and for my family, I appear to be a man. Really, I am always a woman. I just play the role of a middle-aged man, like I have done all throughout my life. One thing does puzzle me, though. When I looked through the logs of the last session. I could see where Mistress has changed me to be the way I am today. But, I don't understand why She had to do so. I have always been this way. So, this session seems to be redundant. Perhaps, She's just making sure I will always be this way.
Who loves sex... all the time...
my body's now making new drugs for me, keeping me on a continual high. I want sex! I can take it in any form, wherever and whenever I happen to be! I can scarcely wait to be alone with my wife, or with my Master... I can't wait! My purpose in life is to serve, honor, worship, and obey my Mistress Goddess. I serve my Mistress by being Her very feminine, content, happy, always high, horny, wet, diaper-girl, slut-slave fuck-toy, both when I serve my wife, and when I serve my Master.
A sexy diapered slut...
I gave Mistress choices with many of my wishes. Yet, after reading everything on Her site, I had a good idea of the choices She would make for me. I was too weak to be able to tell Her to change me into the girl I really am. I couldn't admit to myself what I really desired; yet I knew I had to change. Now, I am very happy that I did. I have always enjoyed what She does for me, and I am very well pleased! Thank You, Mistress, for making me Your slave!
With all her wishes granted
Be sure you know exactly what you ask of Mind Mistress. She will grant your exact wishes. Perhaps I should add to this that you better have clearly defined wishes. For, if you go to Her with fuzzy ones, She will help you decide what you really want. And, if you still cant decide that, and give Her the choice, She will decide for you. Yet, whatever She does for you, you will be much better off than you were before, happier with life, and very pleased with the outcome. Mistress uses Her magic to grant you your exact wishes.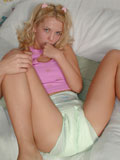 Warm, wet, loved and happy forever after...
Mind Mistress
---
Click here to go

back to the gallery