Ericksonian hypnosis explained
(& sexy smoking)
sometimes it's easier to demonstrate…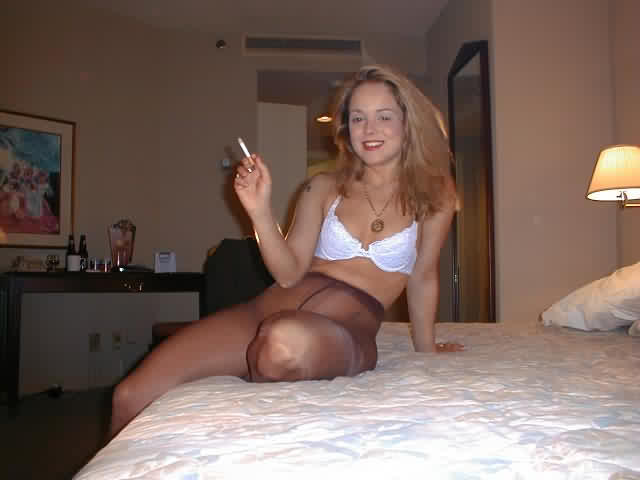 "And Julie started smoking you know," Andrea told me. "That's just so stupid. So when she got drunk at the party she started insisting that it was too cold to go smoke outside. I just told her I don't care, if she wants to pollute her body, that's her problem, but I don't want smoke in my house. I don't know what got into her to start smoking. She's such a smart woman. But anyway…"
"So you were wondering what's special about ericksonian hypnosis?", I said.
"Yeah, what's the big deal?"
"Oh I think I have something in my eye, can you just take a look deep into my eye now and I'm sure  you'll find yourself relaxing it's rightthere, I can feel the blankness spreading inside, just keep looking and staring blankly deeper now. I mean I just want to get rid of all thoughts more and more with every breath…"
She blinked and stared… her mouth opening slightly…
"That's right, just look and let go deeper, my eyes are watering and it will just flow out of head getting empty and blank feels so good and I think it's almost out now… out like a light, deep asleep now staring deep feeling so good empty now sleep!"
And her eyes slammed shut! Sometimes, it's too easy, I chuckled evilly to myself.
"Deeper and deeper now into your unconscious feels so good to let go… more and more and be hypnotized and doing what I say because you know you're hypnotized now, aren't you?"
"Yehsh…"
"That's right and the deeper you go the more you feel good and relaxed and you know that being hypnotized means you must do whatever your hypnotist tells you to do because you are hypnotized and when you are hypnotized you have no will and you must obey, isn't that right
?"
"Mmmm… yesh…"
"and you know you believe everything I say… right?"
"Yeahhh"
"Just go deeper with every breath… deeper and deeper… because you love being hypnotized and it feels so good… and you want me to hypnotize you again… you just want it so much… don't you?"
"ohhh… yeahhh…"
"And so you'll go into a deeeeep trance for me whenever I say 'snugglebunny' because you love being hypnotized so much and it pleases me and you want to please me, don't you?"
I waited as she sat there, enjoying her entranced looks as she sat on the bed with her eyelids fluttering from rapid-eye movement… processing my latest suggestions… the seconds passed and I was about to add some more suggestions to soften her mind further when she said:
"Please youuuu… yeesh…
"Yessss… so important to please Me… and go into trance instantly when I say your special word… because you're so good at going into trance on command and you wanna show it off and be a good subject by going into trance so deep so fast for Me alone and you're proud of it and it pleases Me and what pleases Me pleases you… so much… Pleasure! Feel the pleasure of being so deeply hypnotized and going deeper with every breath now… wanting to please Me more and more is so natural and easy… so very natural… isn't it?
"Ya… naaturalll…"
"and you know that displeasing Me makes you feel bad and you never want to feel really bad like that, do you?"
"Noooo…. never…."
"And you know that it displeases Me that I can't smoke in your house… feels bad… feels soo bad…. knowing I'm displeased… more and more… doesn't it?"
"ohhh baddddd…."
"That's right… so really, you want to please Me by letting Me smoke in your house when I visit, don't you ?"
"smoke… smell bad… bad for youuuuu"
Hmmm, I thought. Deep seated inhibitions about smoking. Oh well, they have to go!
"Yes… smells bad because you don't have the secret of pleasure… and you love pleasure… need pleasure… so you want the secret… isn't that right?"
"Yesssh"
"In fact… you want it more and more… need it more and more… so badly… soo much… more and more… that you'd do anything to have that secret… must have it… don't you?
"yeahhh… must… have… pleasure secret… ohhh"
She was so cute that way… her mouth forming an O, squirming a bit…
"Now I want you to remember a really good orgasm you had… yes… that's right… and whenever I pinch your left nipple, you're going to feel it happening again, and you're going to gasp in pleasure and inhale through your mouth… and you want that, don't you?"
"Ohhh…. yeahhh…"
"Good". Out of My purse I extracted a pack of My sexy 100mm cigarettes, pulled one out and said "It would please Me to be able to smoke here… so that would be ok with you, right?"
"Ummm… yeahhh…"
It had been a while since My last one… not being able to smoke in here previously, so I relished putting it  between My red lips, as I brought the lighter flame to it… cheeks hollowingfor a long drag… and inhaled… mmmm… that was good! I exhaled a long plume towards the ceiling, and sat closer. "And you know what's going to happen when I pinch your left nipple… it will feel sooo good…" then I took a moderate puff, inhaled, and places my open mouth to cover hers… then pinched her left nipple as I started exhaling.
She gasped in pleasure as the orgasm hit her, inhaling sharply from My open mouth… the smoke going deep into her virgin lungs along with the waves of ecstasy… I took my lips from hers… and saw her exhale with a dreamy smiles… as she shook with pleasure… "Smoke feels good inside… smoke is the secret pleasure… repeat that"
"sssmoke fills… good… inside… sssmoke is… secret pleasure…"
"Yesss, it does… and you want more of that secret pleasure… don't you? "
"Morrre… want… morrrre…"
"Of course you do… and the more you get the more you want… now take a deep breath… then letting it all out… and inhale when I touch your lips feeling the pleasure…" I took a quick drag, inhaled and put my mouth over her lips… she inhaled as I exhaled… taking in all the smoke and shuddering in pleasure. I released her lips… and she exhaled open mouthed a cloud of smoke. Her eyes were open now… glazed over with pleasure. "Smoke feels good inside… smoke is the secret pleasure… repeat that"
"Smoke feeeeels good inside… smoke izzz de secret pleasure.."
"Good girl… now I'm going to put the cigarette to your lips and you're going to suck on it like a straw… suck the smoke into your mouth, but just into your mouth…" And I brought the filter to her pursed lips… and she sucked on it… cheeks caving in… then I removed the cigarette… as I pinched her left nipple! She gasped! And breathed all the smoke in as she started cumming again… such a pretty sight… "Smoke tastes so good… smoke smells so good…." I whispered… "Smoke feels good inside… smoke is the secret pleasure…" I added as she exhaled the cloud of smoke with a dreamy smile… "Isn't that right?"
"Oh… yesss"
"And you want more smoke because it feels sooo good… don't you?"
"Yesss… more… more sssmoke…"
The conditionning was working perfectly… and I can't say that I was totally upset at having to make her love smoking so I could smoke in peace at her house… "Now I'm going to put the cigarette to your lips again… and you will suck it into your mouth… then you will open your mouth and breathe it in… then breathe it out as a pretty stream of smoke by pursing your lips, ok?"
"Yes… pretty smoke…."
I put it to her lips… she sucked hard… and then opened her mouth, taking it all in… a shudder… then a nicely controlled stream… I was quite pleased. "But now you want to hold the cigarette yourself… and smoke at your rate… to have the secret pleasure… don't you?"
"Yes… hold…"
I gave it to her… she took another puff… a really long one… and breathed it in… holding it in a few seconds while she trembled in pleasure… then letting it out very nicely. I let her finish the cigarette this way, then crushed it for her in a little porcelain dish she used for jewelry, converted to ashtray by Me.
"Andrea, cigarette smoke smells delicious. What does cigarette smoke smell like?"
"Deliciousss…"
"Yes… Andrea, cigarette smoke tastes wonderful. What does cigarette smoke taste like?"
"Wonnnderfulll…"
"Yes… Andrea, you don't mind people smoking in your house. In fact you enjoy it. Smoking is so cool… smoking is very relaxing…You love being around smokers… You feel wonderful around people smoking. How do you feel about people smoking in your house?"
"I enjoyy itt…"
"Yes… in fact, you want to make sure people are free to smoke by putting ashtrays in every room, don't you?"
"Ashtrays in every rrroom… yes…"
"And you don't want people to run out of cigarettes in your house… that would make them uncomfortable, and you don't want that. So you're going to always have some, to offer guests. It's more polite to offer guests a cigarette. You always want to offer your guests a cigarette. So you have to buy some, and always keep some in reserve, don't
you?"
"Yess… buy ciggaretttess…"
"And since you're offering, you're going to buy the kinds of cigarettes you like… long skinny cigarettes… feminine, sexy cigarettes… at least 100mm cigarettes… just the kind you love to smoke and see others smoking… isn't that right?"
"Yesss… buy… long… sexy ciggarettes… love them…"
"And of course ( I chuckled ), it's not polite to watch someone smoke without smoking yourself… so when you are with someone who smokes, you're going to want to smoke too, won't you ?"
"Yes… must smoke too…"
"Good girl… now do you remember a time when you felt really hot? Maybe you were in the sun and it was sooooo hot… it felt like you were melting… do you remember?"
"uhh… yes…"
"Yes, you feel it more and more… just so hot in the sun… when you wake up, you're going to feel hotter and hotter… until you just *have* to take off your shoes… but you'll still be hot… so you'll want to take off your blouse… and that's ok, because you feel very comfortable with me, I'm your friend… and I'm another woman, so you feel very comfortable removing your blouse with me, don't you?"
"Yes… friend… comfortable…"
I was really being wicked here! But I wasn't going to push it too much further… she was a friend after all… I do have *some* morality… somewhere… I think… but anyway…"and just to be perfectly comfortable when it gets hotter… you're going to want to remove your skirt… and then you'll feel soooo very comfortable with me… just chatting and relaxing, wearing your bra and pantyhose… so very comfortable…"
"Comfortable…"
"Yes, so comfortable, smoking with me… wearing just your bra and pantyhose… so relaxing…" Okay, so I'm a lesbian and a pervert… but hey, I wasn't making her a lesbian or anything too kinky… not like I did with… ummm… never mind…
"So when you wake up, you can just forget about this wonderful trance and just feel really good… really good with me… and just hotter and hotter until you make yourself comfortable again… and because you've enjoyed it so much, you'll go back down into trance whenever I say your trance word, because it's just so relaxing… awakening at the count of 1… feeling great… we're just having a conversation… 3… 2… 1! " He eyes opened and she looked a bit stunned. "And that's why Ericksonian hypnosis is just better than the classical one I think… it's just less intrusive, and you're not doing silly things like telling you you're sleepy and too look into my eyes and silly stuff like that." I grinned. She just looked at me and giggled.
"Yeah, that would be pretty silly. I don't know how anyone could fall for that kind of lame stuff."
"Yeah, I know… say, do you mind if I smoke?"
Her eyes went wide open and glazed over for a moment… and her face went slack. Turned off like a switch. And then, just as suddenly, she came back to life and smiled. "No, not at all, go right ahead. In fact, I should have offered you a cigarette earlier… that was very rude of me. But… I think I'm all out of cigarettes. I'm going to have to buy some. Really, that was very inconsiderate of me… anyway, I'd… really like it if you would go ahead and smoke with me."
"Oh, Andrea, do you smoke? I didn't know."
"Umm… no… I don't smoke… but… I enjoy being with people who smoke… it's kinda cool… kinda relaxing… here let me find an ashtray…"
Oh shit… I forgot about that butt in the dish. And I didn't tell her to expect it… shit…
"Here, you can use this dish… I think… Julie used it… that must be her butt… so you can use that until I get some decent ashtrays. Can you believe I don't have a single ashtray, with guests always coming over? That's really rude of me… I'm sorry."
"Oh, this is just fine" I said, putting it on the bed. I took my pack, and extracted one of my lovelies… putting it to my lips… watching Andrea carefully as I did… She was just smiling and sitting there, watching me. Staring at the cigarette.I lit it… took a puff… and inhaled. As I did, she got that blank look again, as her  unconscious processed my directives… Gods, I love that look. As I exhaled a plume towards the ceiling, head cocked to watch her, she came back to life and licked her lips.
"Umm… I know this may seem strange… but… umm… could I have one of your cigarettes… please??"
She seemed a bit uncomfortable asking me this… like a kid doing something naughty… she glanced to the side and down, playing with the fold of her skirt… "Sure… no problem". I gave her one, and passed her the lighter. She took the cigarette… and really  stared at it in her hand… inspecting it carefully. She slowly, slowly putit to her lips… and brought the lighter… lit it… sucking a bit… then blew out the smoke. She looked pensive… staring at the long cigarette between her fingers…
"It… doesn't taste so bad… in fact… it's pretty good… I'm kinda surprised… and I wonder if… if…" and quickly she brought it to her lips, sucked hard, opened her mouth and inhaled. THEN it hit her. Her mouth wide open, eyes closed, she shuddered and moaned, "Ooohhhhh!", then exhaled… "Wow! That was… ohh wow… I didn't know it was… Oh god…" Then with a wicked smile, she took another puff… and again, the wave of pleasure shook her… "This is soo fucking good!", she said while exhaling smoke… and giggled… "Oh I shouldn't talk when I'm exhaling…" She took another puff… just relishing it… eyes closed. "God, I don't know why I never tried this before… it's so hot… so hot… you know it's kinda hot here… I think I'll take off my shoes…"
"Yeah, it is kinda hot… and sexy… you know, you look really cool with that cigarette… it really suits you… you look pretty sexy…."
"You think so? Mmmm… yeah…", taking a puff, "Mmmmm yeahh… I *feel* kinda sexy… and damn hot" She wiped her brow. "Do you mind terribly if I take off my blouse? Something must be wrong with the heating… I'm melting here!"
"Not at all… go right ahead… make yourself comfortable", I smiled, and she started removing her blouse.
"Comfortable", she said, going blank for a moment. "Yes… I'll make myself comfortable. Need to be comfortable… say, can I take off my skirt too? You don't mind?"
"Not in the least."
"Thanks", she said pulling off her skirt, "You're really nice about it…" and she just sat there, one leg tucked under, one hanging off the bed, smoking and smiling… Looking over at my pack, she said, "These are really good. I'll have to remember that brand to get me some…", brought the filter tip to her lips, "mmmm… ohhh", she sighed in pleasure, exhaling a stream to the side.
I wondered how long it would take her to get addicted… or if she was already. Probably, I decided. I should  probably come over and smoke here the next few days, just to make sure… andmaybe get Julie to come over a few times too. Julie's gonna love this, I thought. She's really enthusiastic about new smokers since I got her to… well… that's another story…
What happened next?
Did I use hypnosis to seduce Andrea?
Did I make her my lesbian love slave?
Or turn her into an exotic dancer? A call girl? Or perhaps a biker chick?
Wouldn't *you* like to know… heh heh…
Perhaps you can tell me what you'd like to see happening to her in my guestbook… after all, this *is* a story… I didn't REALLY do this to a friend of mine… or did I ? Mouahahaha…
Mind Mistress